1. Database introduction
This database framework course is all about making you better understand the fundamentals of creating and populating your B2B prospect database with relevant and correct information. To begin this training I will lay down the theory, the steps, and the framework behind a strong prospect database, which will help you with the actual creation of your database. Buckle up here we go!
Prospect Databases
- "Why would I need a database?" you may ask.
Like it or not, whether you're an owner or you're a part of a sales team - you'll have to source leads for your product or solution. Building landing pages, offering free assets, creating content for boosting SEO, etc., are all part of the marketing mix. There's a lot of work, but we're not here to complain, aren't we?
Don't wait for the notification of your inbox to pop up. Instead, start looking proactively for clients.
First and foremost, you need to understand your target.
Knowing what companies can benefit from your solution or product is your starting point. Make sure that you've downloaded all the necessary tools, subscribed to the needed platforms, and set up your spreadsheet. It's all part of the preparation phase.
Prospecting companies involves using search engines mainly, but also many other techniques.,. Surprisingly so, contacting the CEO is not always the best choice when targeting clients. Instead, go for the person that is in charge of what you have to offer.
Sending emails manually is an outdated method. I say so cause it leads to mistakes and it requires a lot of work. You must double/triple check your list to make sure that it's error-free
Once you understand how to perform company and contact prospecting manually, you can then start considering automating some prospecting aspects to increase your prospecting efficiency.
Database Creation
This is an illustration of the steps required for high-quality B2B prospect database creation.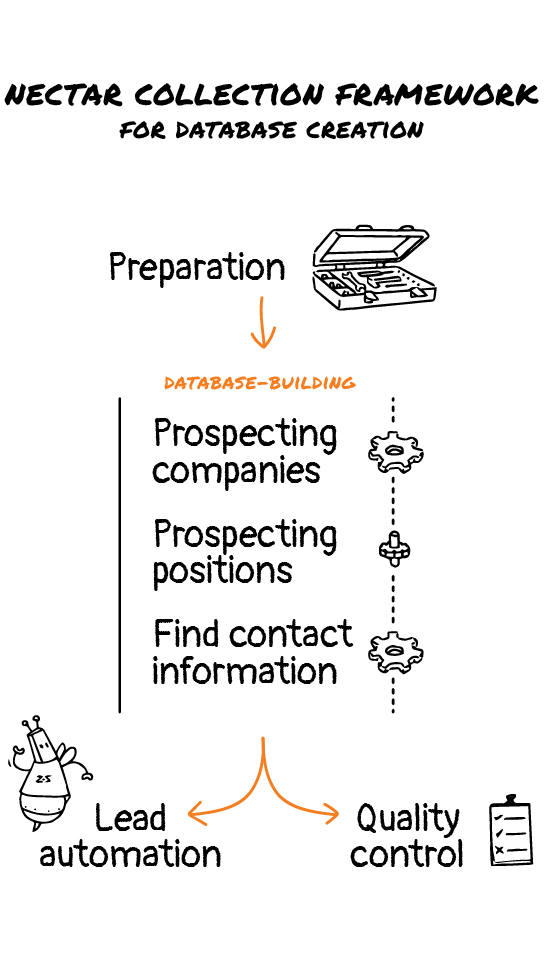 Complete and Continue